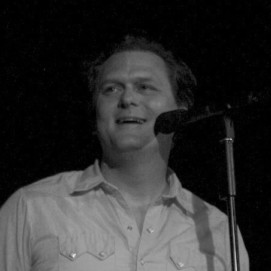 Tom Maxwell was in the Squirrel Nut Zippers from 1994 to 1999. His song "Hell" became a top-20 hit, and propelled the band to multi-platinum status, selling two and a half million records. Songs Tom wrote for the Zippers have appeared in a Super Bowl commercial, a Tony Award-winning Broadway soundtrack, and dozens of movies and television shows.
After leaving the Zippers, Tom has contributed music to an Oscar-nominated documentary, animated features, television shows and commercials.
His first record, "Samsara," was praised for its "blinding diversity." His new record, "Kingdom Come," contains a full complement of American vernacular music: blues, swing, country and much in between.
Tom is also a published author, whose work has appeared in The Oxford American, Southern Cultures, College Music Journal, and The Independent.