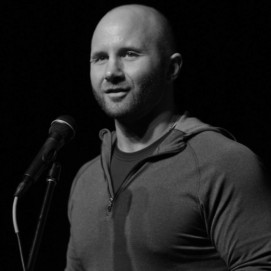 Rain Bennett is a two-time Emmy© nominated filmmaker, fitness professional, public speaker, and writer. His projects excel at bringing the stories of different subcultures to light.
Born into a blue-collar family in "Little" Washington, North Carolina, Bennett spent his early years playing sports, telling stories, and swimming in any body of water he could enter with a splash. Now an accomplished traveler in his mid-thirties, he still finds the most pleasure in those three simple activities. He is a humanist that enjoys inspiring people, teaching, and rooting for the underdog.
Bennett created Flying Flounder Productions in 2008 and specialized in telling real stories that touch the heart. He directed and produced his first feature documentary by traveling the world with just a backpack and a Canon DSLR camera. That film, Raise Up: The World is Our Gym won "Best of the Fest" at the Hip Hop Film Festival and Bennett secured a deal with Red Bull Media House for worldwide release.
He has produced quality work for more than a decade, providing both corporate and nonprofit clients with production or consultation services and giving presentations on short form storytelling. He is featured in publications such as Men's Health, Breaking Muscle, and Sports Business Global, appeared on national television in multiple countries, and been featured on several fitness-based podcasts.
Rain Bennett currently resides in Durham, North Carolina. When he's not working out or getting ready for his first child, he writes and directs both narrative and documentary film projects. His mission is simple: to help people realize that they too can be great, no matter where they come from.