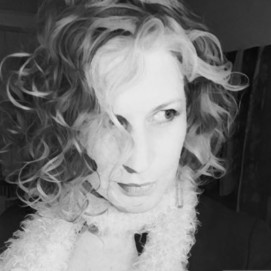 Lisa Chensvold grew up in Santa Rosa, California as a super brainy girl who was drawn to a life on the stage. As a result, she's been engaged in a contstant internal struggle between a life of the mind and a one in the performing arts since about the age of five, when she first stepped on stage to perform the "Powder Puff" dance and her teacher described her as "academically driven."
A classically trained singer, she graduated with a B.A. in music from UC Santa Barbara having gone to the the beach just three times in four years (she regrets that to this day). Again feeling the call of the academy, she left California for Carolina and a PhD in musicology (she's still recovering from that one).
These days she enjoys a career in media relations and communications (long story), and performs when she can. She also tries to laugh as much as possible. When she's not doing those things, or chasing around rock bands, she is busy working on screenplay (OK, not really, but the rock band part is kinda true). She's taking a sick day soon.