Back to List
Krista Bremer
Essayist and Assoc. Publisher of The Sun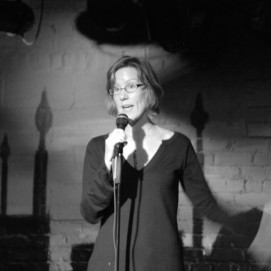 A onetime clown-for-hire, limousine driver, and pregnancy counselor, Krista Bremer currently lives in Carrboro, North Carolina, and works as associate publisher of The Sun. Her essays have appeared in several national magazines including O: The Oprah Magazine, The Sun, and Utne. Her work has won a Pushcart Prize and has been cited as notable spiritual writing in the Best American Spiritual Writing series. She is also the recipient of a North Carolina Arts Fellowship.
In 2009 Krista won the Rona Jaffe Foundation Writers' Award, a $25,000 grant given each year to six emerging women writers throughout the United States. Krista intends to use this award to travel to North Africa to explore and write about family life with a focus on concepts of femininity and freedom for women in Muslim and western cultures.
Krista lives in Carrboro, North Carolina, with her Libyan-born husband, Ismail, and their nine-year-old daughter and four-year-old son. She enjoys running on the wooded trails behind her house, loitering at her local library, and hearing her children laugh.