Back to List
Jessie Gladdek
Freelance photographer in Durham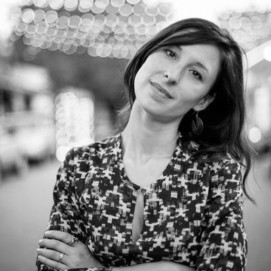 Jessie Gladdek, born Jessie Gladin-Kramer to a lifetime of questions about what would someday become of the hyphen, was raised on a sheep farm nearby in Hillsborough. She developed a serious interest in photography at age 13, building a darkroom in her walk-in closet and spending countless hours in the poorly ventilated space developing her craft and likely killing numerous brain cells.
Jessie attended Oberlin College and majored in Creative Writing. She moved to Boston in 2005 and landed a job as a studio manager for an award-winning editorial photographer. In 2008 she and her now-husband, Matt, moved to Durham, where they bought a crappy house in an awesome neighborhood, welcomed a pit bull named Cleveland into their lives, and began a never-ending pursuit of making their house less crappy.
Jessie's freelance clients range from nonprofits to universities to magazines; she frequently travels across the country and is especially interested in using photography to tell stories.