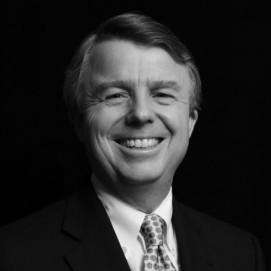 Dennis' spirit of entrepreneurship started at age eight when he operated a rock stand in the dessert along a desolate stretch of a Nevada highway. He began his hospitality career at age 15 as a housekeeper's assistant at a hotel in Missoula, Montana. He quickly worked his way up to assistant general manager. For four years after high school, he worked in leadership at several luxury hotels, mostly in the Northwest. In 1979, he moved to Greensboro, North Carolina, to open a new restaurant, Franklin's Off Friendly. In 1988, Dennis teamed up with Mike Weaver to form Quaintance-Weaver and opened Lucky 32 restaurant in Greensboro in 1989. Today, the Quaintance-Weaver Restaurants and Hotels family includes Lucky 32 Southern Kitchens in Greensboro and Cary (2001) and four additional businesses within a mile of the original Lucky 32: the 131-room O.Henry Hotel (1998); the Green Valley Grill (1998); the 147-room Proximity Hotel (2007); and Print Works Bistro (2007).
Built to use 39% less energy and 34% less water than a comparable hotel, Proximity Hotel is recognized as the "greenest" hotel in America by receiving the LEED Platinum certification by the U.S. Green Building Council in November 2008, becoming the first hotel to obtain the USGBC's top level of certification. The adjacent Print Works Bistro is the only LEED Platinum certified restaurant. Proximity has received many accolades for its 70+ sustainable practices, including being featured on the cover of the North Carolina 2009 Travel Guide and named a "Top 50 New Business Hotel' by Fortune and "One of 50 Reasons to Love the United States" by Travel+Leisure and NBC Today Show.
In 2009, Dennis, along with wife Nancy King Quaintance and partner Mike Weaver, were among the 20 national semifinalists in the James Beard Foundation 2009 Restaurant and Chef Awards for Outstanding Restaurateur. Dennis currently serves on the executive committee for the Johnnetta B. Cole Global Insitute for Diversity and Inclusion. He has served as Executive in Residence for Center for Creative Leadership and as speaker at conferences throughout the United States including Condé Nast World Savers Congress, Southern Colorado Sustainability Conference at Catamount Institute, Emerging Issues Forum, Urban Land Institute National Conference, Hotel Design Conference in Las Vegas and Hotel Investment Conference in Atlanta.
Dennis and wife Nancy have twin children, Kathleen Troy and Dennis Carlisle, born in 1998.