Back to List
José Octavio Pérez Saldivar
Octavio of all trades, maybe one day maestro of some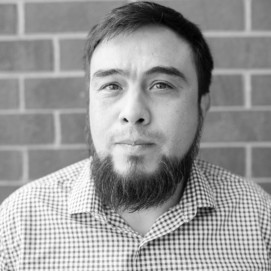 From carpenter, handyman, beekeeper, gardener to quesadilla making all the way over to table tennis and fly-fishing. Described by many as a jokester. Born in Zacatecas, Mexico to the most loving mother that's ever lived and to the better, more seasoned, wittier and hardest-working member of the Pérez family, his Pa. Octavio moved at the ripe age of five to the epicenter of Mexican migration, the little pueblo known as Los Angeles. There his childhood was rocked – LITERALLY- experiencing some of the longest tremblers California has to offer. Onward he stomped to the Napa Valley region where the remainder of his childhood was written.
Later on Octavio was transplanted to the Appalachian region of Northeast Tennessee where he discovered the annual International Storytelling Festival in Jonesborough and there the love of storytelling began.
Octavio is married to the best woman one could wish for with two sweet and time consuming children named Uma and Hormiga: the first a Mexican German Shepherd bilingual dog that loves eating quesadillas and playing tag-rub-my-belly-chase-me forever; the other a rare VW-EA489 truck that is very difficult to find parts for.
These days he can be caught attempting Zapateado to La Bamba Rebelde when no one is looking or sound-tracking his life to the tune of rapper, Residente.